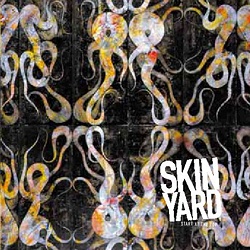 Received this email from Daniel House, owner of C/Z records the other day. So cool! It's the first time my horrible spelling lead to something good. I remember in 3rd grade I tried to write an essay and say "I am good" but instead wrote "I am god" and a parent-teacher conference was soon to follow. If you catch any other misspellings (and ran a rad label / were in awesome bands) email seattlebandmap@gmail.com…
"…I own and ran C/Z records out of Seattle for over a decade. I released the very first Built to Spill record and Treepeople before that. I also released records by The Gits, 7 Year Bitch, Melvins, Silkworm, Engine Kid, Gerald Collier, Hammerbox, Coffin Break and many more. The label website is: http://www.czrecords.com
The misspelled band is Ten Minute Warning (for reference see: http://en.wikipedia.org/wiki/10_Minute_Warning). You have the band spelled as Ten Minute Warranty.
The band that is missing altogether  (there are many others missing of note as well) is SKIN  YARD. We were around for 7 years (1985-1992), released 5 records while active, played with Nirvana (they opened for us 5-6 times before breaking), Soundgarden, Green River, Room Nine, Butthole Surfers, Meat Puppets, Faith No More, Redd Kross, GooGoo Dolls, U-men, Bongwater, Bad Religion and tons more. This was the band that Matt Cameron played in before being in Soundgarden and Pearl Jam. Our later drummers included Jason Finn (Presidents of the United States of America, Love Battery) and Barrett Martin (Screaming Trees, Mad Season, Tuatara). I think that should be enough to verify our place in the scene. Read/see more at:
http://www.facebook.com/SkinYardOfficial?sk=info (take a look at the poster gallery)
http://en.wikipedia.org/wiki/Skin_Yard
http://www.czrecords.com/artist.php?ARTIST_ID=14
Thanks for your time.
Daniel House"